Fun, functional fitness for kids of all ages.
The Railyard is portable, easy to set up and take down, stores in a small space, and can be transported easily from location to location.
The Railyard is made in
the U.S.A. and in over 2000 youth programs worldwide.
Easy to implement fitness program, and includes complete training manual. 
The Railyard is where global movement skills and a love
for exercise are developed.
Include multiple planes of movement including forward, backward, lateral, up, down,
across, over, or under for challange and results.
You can condition your kids and youth with total neuromuscular engagement that's exciting and elevated.
Use the Railyard in Ninja, Parkour, Tag and Obstacle Courses as stations or obstacles.
Special pricing for schools, recreation and fitness centers, contact us today for free
quote or a customized package!
Stores in small space
Transport your Course from school to school, to outside events to promote your program. Lightweight , easy to carry yet holds up to 600 pounds. The most productive and vesitile equipment you can invest in! Your Obstacle Course will last for decades to be used by thousands of students and members, the most versitle and value added product on the market!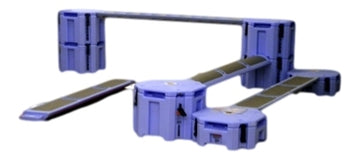 Don't take our word for it
★★★★★

Every PE program in the
country should have a Railyard in their program. Students enjoy exercise on an
Obstacle Course, it gets them moving in ways they have not moved before in new
and exciting elevated environment.  The exercises makes them stronger,
improves their strength and provides cardiovascular conditioning, agility, and
body balance."

Phil Lawler, Former PE4life Director of
Education and Training
★★★★★

We have 2 sets. 
Students enjoy exercise on the Railyard because it gets them moving in ways
other products do not allow.  This exercise makes them stronger, more
agile, improves their balance, coordination, endurance and strength."

Carlye Satterwhite, Curriculum
Coordinator/Mentor Teacher

Des Moines Public Schools
★★★★★

"The Railyard Fitness equipment has been such a fun and exciting addition to our PE program. The excitement my students express when they see the Railyard system integrated into our lessons is contagious! Student participation has greatly increased because they see the new activities Railyard provides as a fun way to challenge themselves. This allows students of all fitness levels to be successful, as there are endless activities and modifications to match student needs. This system can open up so many unique opportunities. Whether you want students to work on specific muscle groups or push their limits in a new and safe way. It is easy to add it into a fun game for an extra challenge as well. Railyard fitness is a great addition to any PE program!"

Soaring Heights Prek-8

Erie CO
★★★★★

One of the great aspects of
using the Railyard obstacle course is that both sides of the brain are utilized
to perform the challenges the course offers, when students have to move across
the midlines of their bodies. Students actually have fun meeting the challenges
of the course, which disguises the fitness benefits derived by
participation."

Paul Zientarski, former Instructional
Coordinator, Physical Ed., Health, Dr. Ed., Naperville Central HS